Reception Forest School
4/10/17
In reception the children have gained an understanding of the rules of forest school (no pick, no lick, be careful how you carry a stick!) and are exploring safely within the area. This week's theme was forest monsters and the children made some very unusual creatures on the tree trunks using clay.
11/10/17
Chipmunks session was focussed on listening to the sounds around us. They began their session with the book Shhhh! by Jeanne Willis and Tony Ross and were able to lie down and identify some of the Forest sounds around them. They then explored their environment to investigate what they could use to create other sounds; scratchy pine cones and drumsticks on trees were a particular favourite. After some hot chocolate to warm everyone up, the children enjoyed their choice time: making nature rattles, toasting marshmallows around the fire, playing in tarp dens, making their own natural paints and hunting for invertebrates.
1/11/17
Reception are really gaining confidence in the natural setting and familiarising themselves with the routine, safety rules and expectations. Their confidence is beginning to shine through in the activities and experiences with greater levels of exploration and imagination being demonstrated.
This weeks sessions for both reception and year one were centred around the story 'Room on the Broom', which we used as inspiration for sharing, caring and making magical potions!
The children used tools to whittle wands, we cooked caramel apples over the camp fire and as always children had access to magnifying glasses, bug viewers and got to explore the nature of the site.
8/11/17
Reception enjoyed getting creative in teams, making firework and bonfire art out of natural materials. Their imaginations and collaborative skills are really developing and they were commenting positively on each other's achievements and ideas. In their choice time, they had the opportunity to use the fire steels to create sparks and light cotton wool balls. This took a lot of determination and resilience, but all that attempted this were successful. The children also continued to develop their whittling skills with the peelers to make rockets out of elder. They enjoyed throwing these through the sky to create a firework display of their own.
15/11/17
Chipmunks and Badgers were all wrapped up warm this week. We focussed on hibernation through the story Ridiculous and fire lighting with both classes.
The children enjoyed making warm homes for the forest friends using leaves and sticks. Chipmunks are becoming more imaginative and were adding doorbells and sheds! Badgers were able to explain to their peers about the features of their homes.
We carried on with fire lighting using the fire steels. The children are demonstrating their patience and resilience and all that tried were successful. We also toasted brioche with Chipmunks and discussed what is needed to create fire.
22/11/17
Another positive week at Forest School. Leaves were the centre of our focus for this weeks sessions. The children completed a range of activities focussed around comparing and identifying leaves. We looked at form and colour to identify the leaves and used them to create some animal pictures. The wind added a very exciting element to the sessions. The children engaged with their environment, observing the sounds of the wind in the trees and movement of the leaves. Both Reception and Year 1 are demonstrating responsibility and developing a good understanding of how to keep themselves safe.
29/11/17
This week, we used stars as our focus. We shared the book How To Catch A Star to stimulate the children's imaginations. They worked in self chosen groups to create a piece of art or invention showing how they might reach and catch the star using natural resources found in the environment. In their choice time, they enjoyed making their own star from a single piece of willow. This was quite challenging, but the children persevered and were able to use pipe cleaners to secure the structure. They also made christmas tree prints using the Hapa Zome technique and created frames from willow to display them.
6/12/17
Both classes enjoyed a Christmas/Stick Man themed week. We shared the book Stick Man with the children and they enjoyed making our own Stick Man family out of resources in the environment. We had a great variety of Stick men and women, with a range of hairstyles and accessories. For the rest of the session children chose between whittling hazel to create Santas, making snowmen from wood cookies and decorating pine cones to hang on their trees. The children once again got the chance to show off their safety skills around the fire, toasting marshmallows to enjoy with their hot chocolate.
5/1/18
We are supporting Reception in looking at Fairy Tales this term. We started with exploring Dragons. The children enjoyed creating bows and arrows from the willow, making dragons to ride on and creating nests for the dragon's eggs we found on your field.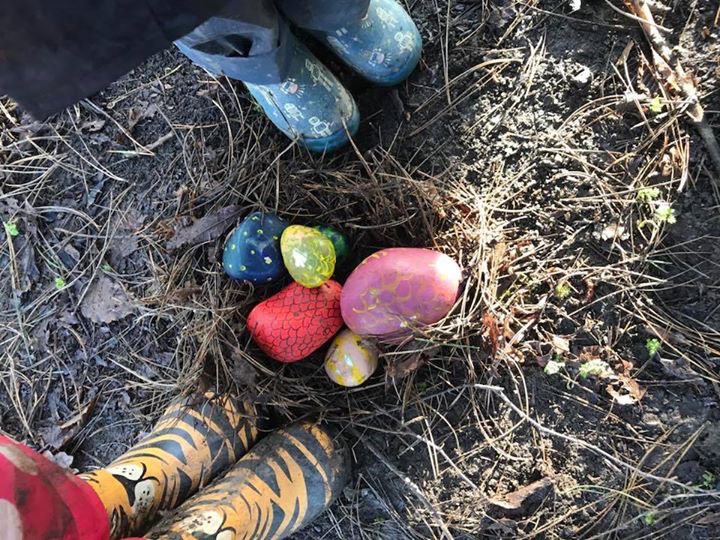 10/1/18
Last week Reception activities focussed around Little Red Riding Hood. The children are developing their knot tying skills and made wolf masks, which they then enjoyed wearing whilst they explored and played amongst the trees. We introduced the bow saw and some children chose to cut wood discs.
17/1/18
Last week we continued supporting Reception with their fairy stories and focussed on Goldilocks and the Three Bears. The children enjoyed finding story stones and retelling the story together. They then used their imaginations to build traps for bears, building natural dens and making bowls out of clay. They also cooked porridge on the fire and enjoyed tasting it just like Goldilocks.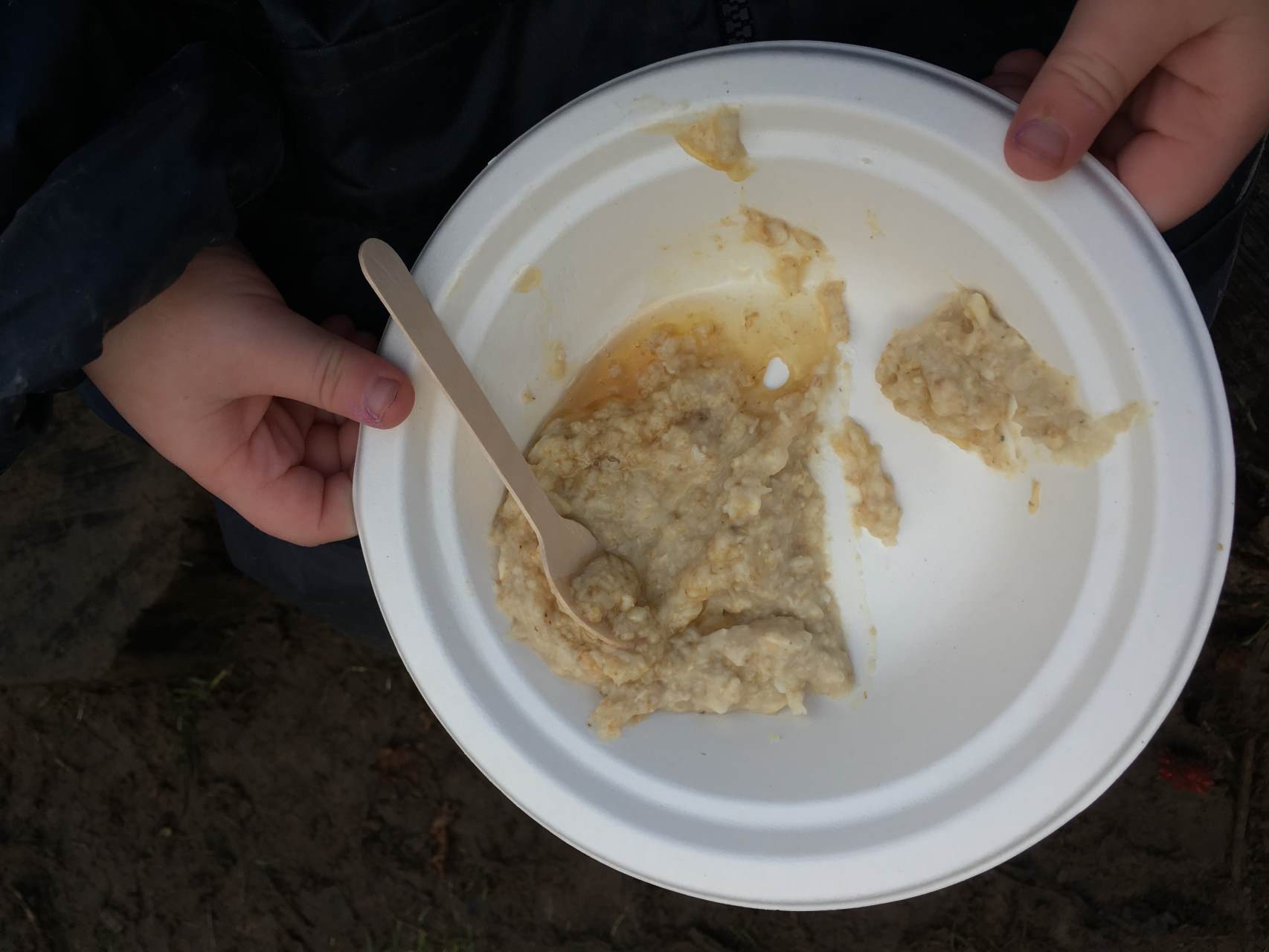 24/1/18
Last week Reception enjoyed looking more closely at the Three Little Pigs Story. We hunted for story stones and the children were able to participate in the retelling of the story. They are becoming more confident at using their voices to add expression and excitement to the story. We then explored the materials that the pigs used to build their houses and tried to make some of our own from stones, sticks and straw.
31/1/18
This week Chipmunk class focussed on the story The Stinky Cheese Man (a parody of The Gingerbread Man). They built boats using wood cookies and materials from their environment to help the Stinky Cheese Man get across the river without the help of the fox and tested how well they floated them on water. Cheesy pizza wraps were toasted on the fire and mud men were made on the trees.
7/2/18
This week Chipmunks enjoyed finding giant footprints and golden eggs, as we focussed on Jack and the Beanstalk. We cooked some beans and toast on the fire and the children planted their own beans to take home. It's great to see how much their imaginative play has come on this half term.
21/2/18
Reception class were keen to be back. We focussed on Chinese New Year this week. The children began by hunting for the animals of the Chinese zodiac amongst the trees. We are trying to encourage them to explore further, following our clearance day last week, which has opened up more areas for them to play. After the story, the children created clay animals on the trees, using natural resources and then enjoyed making mud, digging, jumping and becoming mud monsters.
28/2/18
All plans were abandoned yesterday with the excitement of the snowy weather​​​​​​​​​​​​​​​​​​​​!
Reception had a great time exploring the snow. There were lots of animal tracks to find when they went out in the morning. It was amazing to see how many animals explore the woodland, including both birds and mammals. The children quite spontaneously used their imaginations and soon we were hearing shouts that ogre footprints had also been found!
Looking after ourselves and each other was important, as we were exploring and playing in the snow. The children kept busy building snowmen, rolling snowballs and throwing them at each other. We discussed the importance of ensuring everybody stayed happy and enjoyed themselves and the children came up with their own rules to ensure this happened. We even managed to freeze some bubbles!
After just under an hour, we took the outside in. Reception children created some eggs, leaves, caterpillars and cocoons out of clay, while others chose to weave some butterfly wings using willow.
7/3/18
We took Chipmunk class on a wander around the site to explore how it is beginning to change. The children were interested in the buds appearing on the willow trees and how soft they were. We played a game focussing on lifecycles and started building the bug hotel together.
14/3/18
This week Reception class focussed on invertebrates. They worked well in teams to collect different items for the bug hotel and sorted them into different groups: bark, dead wood, sticks and pine cones. All children painted a stone to decorate the bug hotel using sticks and we discussed what type of invertebrates we hope to encourage to live there.
21/3/18
The buds are starting to appear on the trees on the site now and the children are really taking an interest in the changes each week. Reception had a go at identifying the different trees using the guides and we continued to discuss the different mini beasts we hope to encourage to our bug hotel. They used different materials found on the site and a lump of clay to create some of their own mini beasts, which are now decorating the top of the bug hotel.
28/3/18
Reception class took a trail through the wooded area to find activities that they had to complete, before gathering the natural resources they needed to make an Easter rabbit or chick. After an hour we decided to take the children inside to have their hot chocolate and snack before creating willow Easter crowns.
18/4/18
We were pleased to welcome back Chipmunks to Forest School today. They were great explorers and were able to use their observational skills to notice the amazing amount of change that the site has gone through over the Easter break. They spotted lots of new plants between the trees, leaves and catkins on plants and we also had the privilege of seeing some beautiful butterflies and bees visiting our bug hotel. The children had to trust each other today as they guided each other (one person with their eyes closed) to a mystery tree. They had to use all of their senses apart from sight and taste to examine the tree. They were then led away, spun around a few times to make it tricky and had to go find their mystery tree. It was great to hear the children describe their trees so clearly to each other and they were very excited when they selected the correct mystery tree. Now that the woodland is coming alive (and hopefully it will stay drier) we asked the children to create bunting that will be used to decorate the site each week. Later in the session, the children had the chance to dig and prepare the wildflower bed near the bug hotel. They also had a go at weaving natural materials in the frame that we have put up amongst the trees.